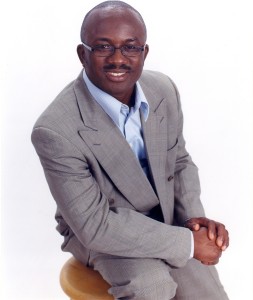 Pastor Charles Okang and his wife Mary are the General Overssers of The Happy Church, Inc. Charles was raised by a single mother in the West African country – Ghana. His mother Rebecca Shasha Laryea, who nurtured and taught him the word of God and led him to Christ.
Charles had his first leadership experience when he became a Home Care Leader at the Normal Life Christian Centre in Accra, Ghana (1987). In 1988, his home care group grew three-fold to a total of 30 souls and he was elevated to Area Leader by the senior pastor. He rose through the ranks rapidly and became the Home Care Director in 1989. Under his leadership, the home care groups grew from 8 to 29 care groups, with about 6 to 15 souls in each group.
By this time the calling of God on his life was undeniably evident. He was then appointed associate pastor and personal assistant to the senior pastor in 1993-95. Charles is a graduate of Maranatha Bible College in Accra, Ghana and holds a diploma in Pastoral Ministry.
As a man with a passion for growth, he served in training elite leaders at the Bible Chapel International Church (Formerly Normal Christian Life Centre). He also went out to the streets of Osu, Accra to win souls and plant a branch of the church in 1995-97. His hard work, sacrifice and great desire to expand God's Kingdom led him to provide supportive ministry in planting another church. This time for the Bethel Christian Methodist Episcopal Church at Abeka, Accra. In 1998-99, he established Whitefield Counseling Foundation, a hospital visitation ministry that won many souls on their hospital beds for Christ.
Come September 1999, Pastor Charles and his family relocated to Connecticut, USA. He became a member of Gateway Christian Fellowship while providing manpower and technical support to the facilities management department of the church.
The Lord laid claim on his life again with a new vision to call the African people in the United States to passionate prayer for the redemption and transformation of the continent of Africa. As a result, he formed Focus on Africa – a house of prayer – in his living room in 2000-04.
Pastor Charles and Mary currently submit to the oversight and leadership of the Apostolic Resource Center (ARC) and its founder and director – Dr. Brian Simmons.
Pastor Charles, along with Mary, his one and only soul mate and their 5 lovely children, Asford, Margarieta,Charissa-Joy, Maureen and Charles Jr. reside in West Haven, Connecticut.